Side Trips/Activities
Lake Nakuru National Park:
Lake Nakuru National Park is 188 square kilometers. The alkaline lake itself comprises roughly a third of this site. Established as a National Park in 1968, it has become a popular tourist spot for safaris and camping.
| | |
| --- | --- |
| | |
Simon picked us up early in the morning and drove us to Lake Nakuru. As we entered the town of Nakuru, it reminded me much like other towns in developing countries. People were walking everywhere crossing busy streets with little regard for their own lives. Mechanic shops, produce sellers, clothing vendors and hot food vendors lined the streets in makeshift stalls. Asali honey and oranges were for sale everywhere. Children were on their way to school and mamas were hanging the wash out to dry. A row of curio sellers with their carved animals caught my eye. But I knew if I asked Simon to stop and I disembarked the bus, that I 'd be swamped with merchants hawking their wares. "Konichi wa" they would say, thinking that I must be Japanese and would be willing to spend 1000 Ksh (approximately US $14, or 8 pound Sterling) on an African music CD. Little did they know I could buy the same African music on eBay for a couple of dollars.
The benefit of a wildlife preserve such as this is that it does bring in significant tourist dollars and keeps a portion of lands from being urbanized. On the other hand, running around in tour buses and Range Rovers can translate into animal harassment. At what price eco-tourism? But given that the Park has been open for nearly 40 years, the animals have become habituated to humans. For the most part, they ignore us all together. Likely, we are viewed as just another larger, non-predatory animal. There were instances, however, during this safari that a water buffalo and a zebra felt that we were infringing on their territory or that we were a possible threat to the herd because they stood their ground, laid their ears back and peed.
Lions were nearly hunted out to extinction in Kenya not too long ago. We considered ourselves fortunate that we came upon a lion and 2 lionesses that had just finished eating a zebra. Their bellies were distended, they were heavily panting and they didn't move even when our vehicle slowly moved within close range.
Lake Baringo: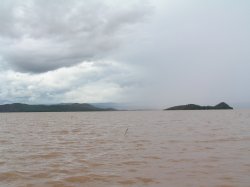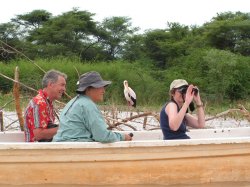 | | |
| --- | --- |
| Lake Baringo is a freshwater lake, stretching over 100 square kilometers. It is home to approximately 600 species of birds, hippos, crocodiles, catfish, talapia, and lizards among other creatures. Like Lake Bogoria, tourism is what supports the local economy. A few hotels dot the edges and there is one on an island in the center of the lake. The water is a milky coffee color from to all the erosion caused by goats eating the vegetation all around the lake edge. There have been experiments conducted to stop grazing within a defined distance from the shoreline. Early results were favorable as the water clarity improved. | |
| | |
| --- | --- |
| David told us about a story of one of the wealthy local residents who has lived here and swam in the lake every morning for the past 30 years without incident. Apparently, she came to view the inhabitants in the lake as friendly. However, an old female crocodile had other thoughts and wanted to expand its menu. One day, the croc attacked the woman ripping off one arm and severely damaging the other. It also managed to take big bite out of one of her buttocks. The woman did survive but the crocodile has not been caught. Prior to our trip to Lake Baringo, Velia suggested that we go water skiing on the lake. Quite frankly, after hearing that story, I'm glad that we did not. | |
| | |
| --- | --- |
| | |
As we were taken around in a little motorized skiff, we came upon a family of hippos in the middle of the Lake consisting of a bull, his mate and three "little" ones. The boat operator came a bit too close for comfort. At one pass, the bull mock charged us, which was enough to scare the daylights out of all of us. Next to deaths caused by the temperamental water buffalo, the second most common are deaths are attributed to hippos that can bite a person in half with molars the size of baseballs.
| | |
| --- | --- |
| | |
Have you ever wondered just how some of those wildlife photographers manage to get that perfect picture of an animal making a kill? I used to wonder about that too, but now, I'm much more cynical. Simon and the boat operators purchased some catfish from a local who was fishing out on a raft made of dried reeds or banana stalks. When they spotted a fish eagle, they began to call it using its call. The fish eagle spotted us and waited in the trees. They told us that after they toss the catfish into the water and when they count 1 - 2 -3 that we should snap the picture. Can you believe it? A trained eagle? I was so disappointed. Granted, it was kind of cool to see an eagle zoom in and pick up the fish, but now I wonder just how many wild animal shots are set up in this manner. We were also told that once the adult was trained, their young picked up the trick too. In fact, we did this exercise with 3 eagles before the day was out.